As a journalist, I mainly deal with the topics of film, TV, music and retrogaming. My texts have appeared in publications such as the Salzburger Nachrichten, Film & TV Kameramann, Ray, Celluloid, gmx.de/web.de, 35 Millimeter – Das Retro-Filmmagazin, All-Music Guide, GameStar, and Neon Zombie. I also write about all these topics on my own website Wilsons Dachboden (Home – Wilsons DachbodenWilsons Dachboden).
Film & TV
For the Austrian daily newspaper Salzburger Nachrichten, I regularly write film stories with a historical or political context, such as about the depiction of fictional presidents in American cinema, the history of zombie films and the temporal reference of creatures, or about cinema's handling of the nuclear threat of the Cold War. I have also written retrospectives on films and filmmakers such as Wim Wenders, Clint Eastwood, the BLUES BROTHERS, THE SILENCE OF THE LAMBS or DEEP THROAT.
For the trade magazine Film & TV Kamera (formerly Film & TV Kameramann), I write about the technical aspect of filmmaking – among other things, I have written about the creation of the Austrian films DIE BESTE ALLER WELTEN and DER FUCHS, the art of trailer editing, Tom Tykwer's Kenya Initiative and its production SUPA MODO, the editing of Polanski's classics CHINATOWN and ROSEMARY'S BABY, the work of sound designers, or the camera work of David Eggby. I also conducted interviews for the magazine with filmmakers such as Yoshi Heimrath, David Eggby, Bobbie O'Steen, Volker Tittel, Brian Murray, Adrian Goiginger, or Daniel Sager.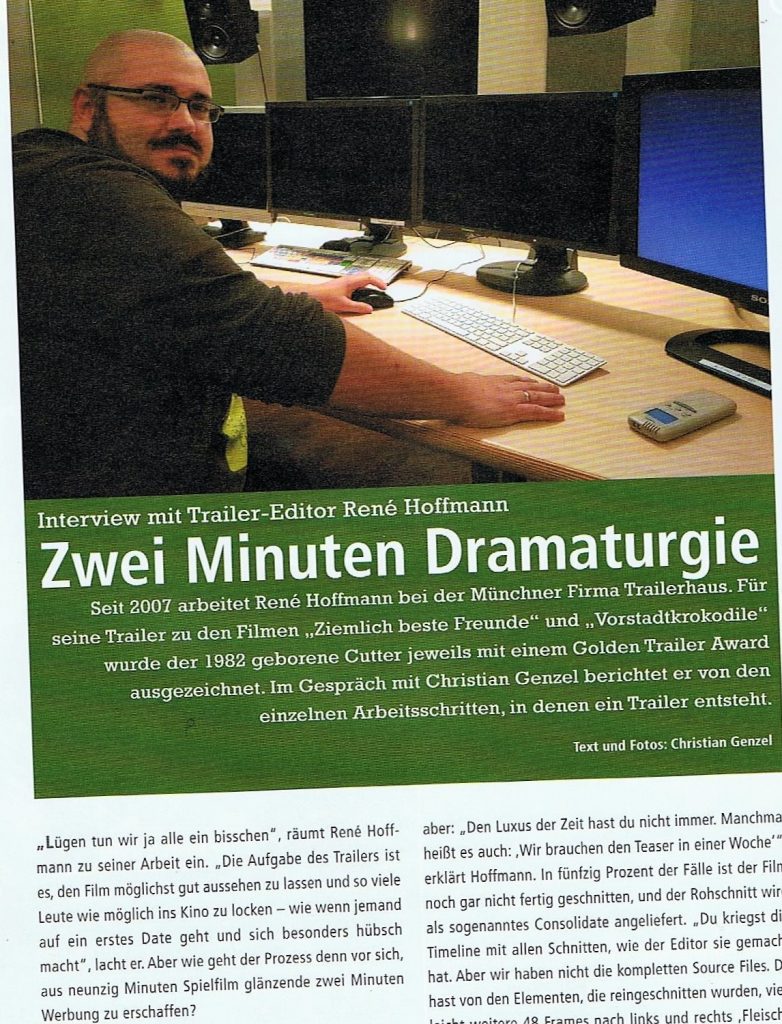 For the 35-Millimeter-Magazin und Neon Zombie (formerly Der Zombie), I have written retrospectives on various film classics (including ALL QUIET ON THE WESTERN FRONT, WESTFRONT 1918, COMRADESHIP, DUCK SOUP, THE THING) and cult directors (John Carpenter, Wes Craven). In the 35-Millimeter-Magazin, I also write about German post-war cinema in the column "Trümmer & Träumer".
For the labels Turbine and Unglaublich Phantastische Filme, I have written booklet texts for films such as FLESH GORDON, TWISTER or SHROOMS and have also contributed interviews to films and series such as THE FRIGHTENERS, PITCH BLACK and KNIGHT RIDER.
I have written over 300 film and TV reviews for the news portal gmx.de/gmx.at/gmx.ch/web.de,the mannbeisstfilm.de site, the 35-Millimeter-Filmmagazin, the Neon Zombie, and my own site Wilsons Dachboden, from current Hollywood blockbusters to film history, arthouse, domestic TV productions, independent films, and obscure pearls to curious finds, and bizarre trash flicks.
In many cases, I have also entered the shrill world of reality television under the motto "Worse than reality". Especially for the news portal gmx.de/gmx.at/gmx.ch/web.de, I have written over 280 reviews between quiet irony, biting mockery, and astonished shaking of the head about numerous trash TV formats: "Bauer sucht Frau", "Bauer, ledig, sucht", "Austria's Next Topmodel", "Schwiegertochter gesucht", "Teenager werden Mütter", "Machos & Playboys", "Der Speck muß weg", "Love Island", "Adam sucht Eva", "The Bachelor", "The Bachelorette", "Lugner am Opernball", and many more.
Music
Since 1998, I have written hundreds of reviews, biographies and information texts (German and English) for the American All-Music Guide and the US companies TiVo and Xperi. The texts are used on portals such as eBay, Spotify and Google Play. I have also written various music reviews for the Salzburger Nachrichten.
I have conducted interviews with various musicians, including: Irmin Schmidt (CAN), Frank Farian (Boney M), Clem Burke (Blondie), Peter Iwers (In Flames), Waldemar Sorychta (Grip Inc.), Christian Olde Wolbers (Fear Factory) and Jacoby Shaddix (Papa Roach).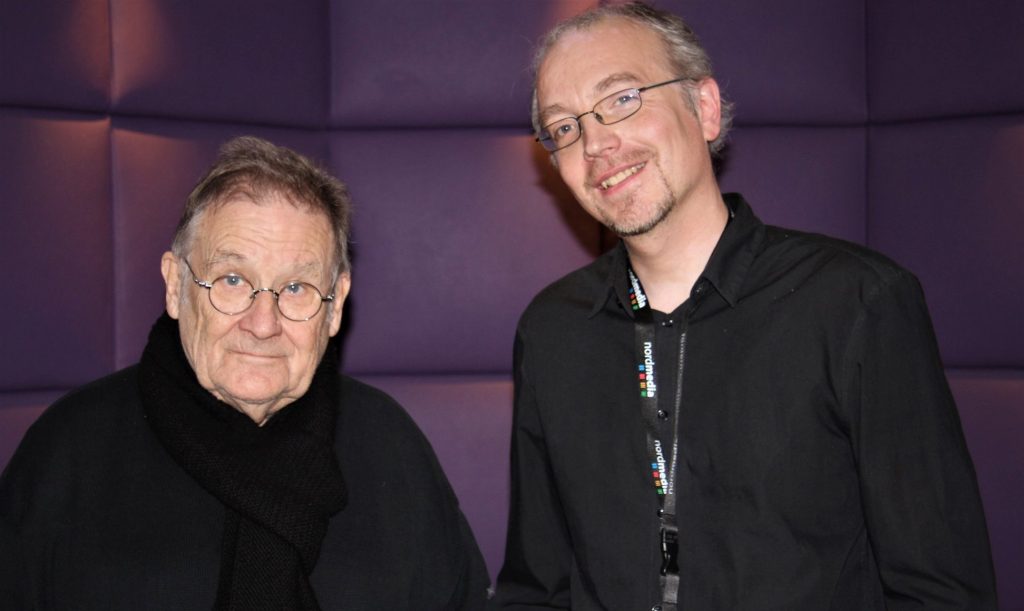 I have also written various music-related articles for the news portal gmx.de/gmx.at/gmx.ch/web.de, including about the new Austro-Pop (Wanda, Bilderbuch), the Eurovision Song Contest, various Falco TV reports, the sixth anniversary of Michael Jackson's death or Madonna's 60th birthday.
For a reissue of the Headhunters albums SURVIVAL OF THE FITTEST and STRAIGHT FROM THE GATE, I wrote the English-language liner notes for the Australian label Raven.
Computer games
For the game magazine GameStar, I tracked down and portrayed the game designer Ralf Glau. Glau is one of the pioneers of German business simulation with his eighties games such as HANSE and VERMEER, but retired from the industry in the nineties and gave me his first interview in 25 years in 2018. I also covered the making of the cinema version of SUPER MARIO BROS. and conducted an interview with Uwe Boll about his video game adaptations.
For the Salzburger Nachrichten, Neon Zombie, and my own website Wilsons Dachboden, I have written about various games – some current productions, but mainly retro games from the eighties and nineties, including adventure classics like KING'S QUEST or GOBLIIINS, Jump'n'Run classics like PRINCE OF PERSIA and BRUCE LEE, or business simulations like PORTS OF CALL and WINZER. For the Salzburger Nachrichten, for example, I have also written about video game adaptations or the history of Commodore 64.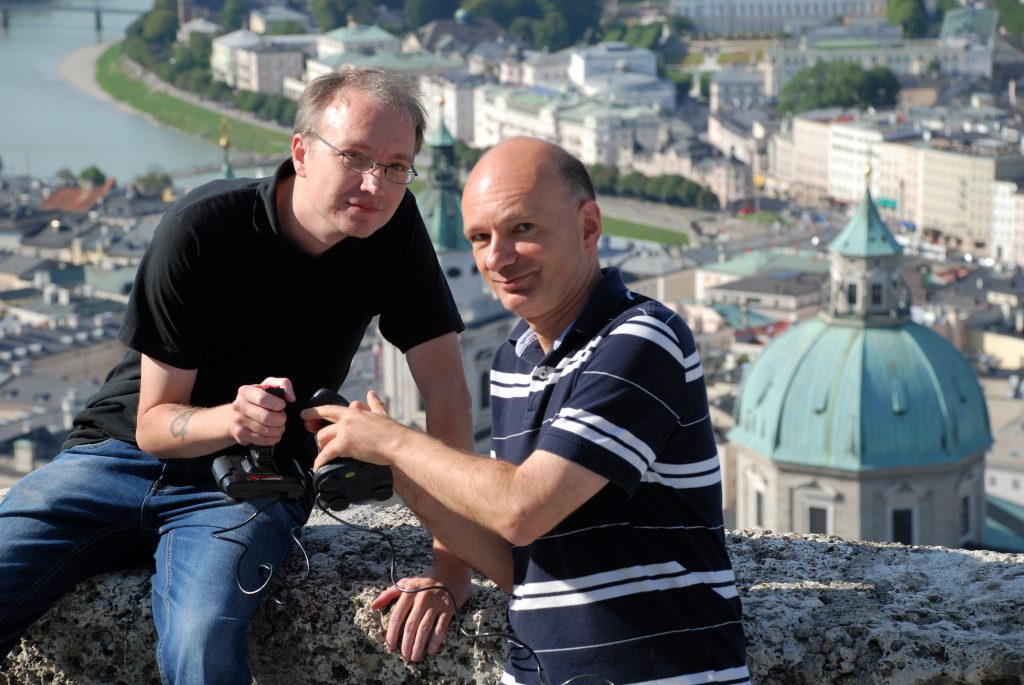 For Wilsons Dachboden, I also interviewed game designer Guido Henkel (THE DARK EYE) in detail about his role-playing game SPIRIT OF ADVENTURE and tracked down listing game designer Ronald Mayer to talk to him about his numerous C64 typing games.